Fiscal Jesters
Good morning! Here's the last update for Fiscal Jesters Season 0.
To clarify what that means, let me just say, it's been a blast doing these updates, adding characters and features on a weekly basis, but at the end of the day, Impostor Cat Games is just one person doing this in their free time, so persistent weekly updates are unsustainable, especially since I have a couple other projects in the works. Also I might be moving soon, and that's a task and a half...
My plan is to keep this going in limited intervals, which is where the seasons come in. Barring some horrible bugs or other essential fixes, I'm walking away from Fiscal Jesters for a month or two, but when I come back, I'll be back for a few weeks, adding new characters and features in nice little parcels as usual. This should also help me more accurately gauge the community, and what they want to see in a new Droplike. Also, hopefully by then I'll figure out a solution to the gamesave issue on the HTML5 version (as I mentioned in the last one of these, if you value what little save data the game has, you're best off playing the downloadable versions at the moment).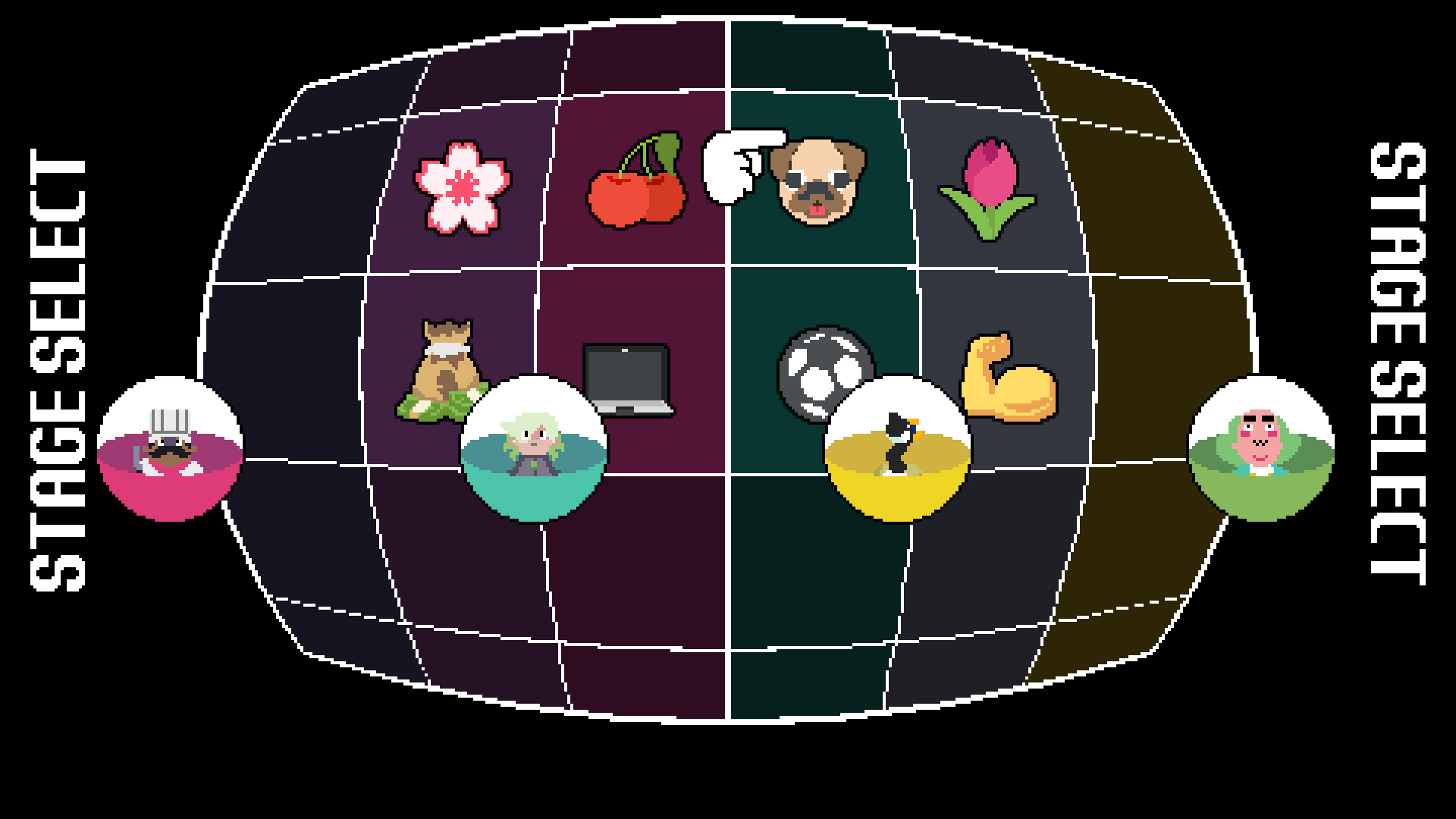 With all the admin out of the way, here's the update. Jeff Chester, the Chef Jester, bumps the roster up to a nice round eight. There are also eight stages! One of my main goals for this game was to create a Droplike that didn't require mirror matches at a competitive level, so instead of giving each character an attack pattern, it's determined by the stage. The UI for stage select isn't entirely in place yet, but imagine that these are different piles of coins around the globe, stacked in their own individual ways, because that's what makes the world go round. The lore for all of this is something I hope to address further in Season 1. As for where you should go, I recommend that beginners stick to the top row of stages, as they're more forgiving and clustered than the bottom row, much like in Money Idol Exchanger (or Money Puzzle Exchanger, if you rather). Full change list:
Added Jeff Chester, the Chef Jester
Title screen cursor returns to correct spot following kapsule machine or tutorial
New palettes for Yenjamin, Scootsie, and Mx. Skellington
Fixed bug that added orbs to starter pile when orbs are disabled
Text alignment fixed for single player timer
New transition for kapsule machine
Kapsule collection rate added to kapsule machine screen

Incorporated stage's garbage pattern into single player pattern (pile starts with first 4 rows of garbage pattern, one garbage row appears every 50 coins)
Files
fiscal-jesters-osx.zip
16 MB
Version 0.3.5
Aug 16, 2021
fiscal-jesters-windows.zip
16 MB
Version 0.3.5
Aug 16, 2021